GlasCurtain Becomes First Curtain Wall To Earn CAN/ULC-S134 Certification, Opening Door To Non-Combustible Construction in Canada!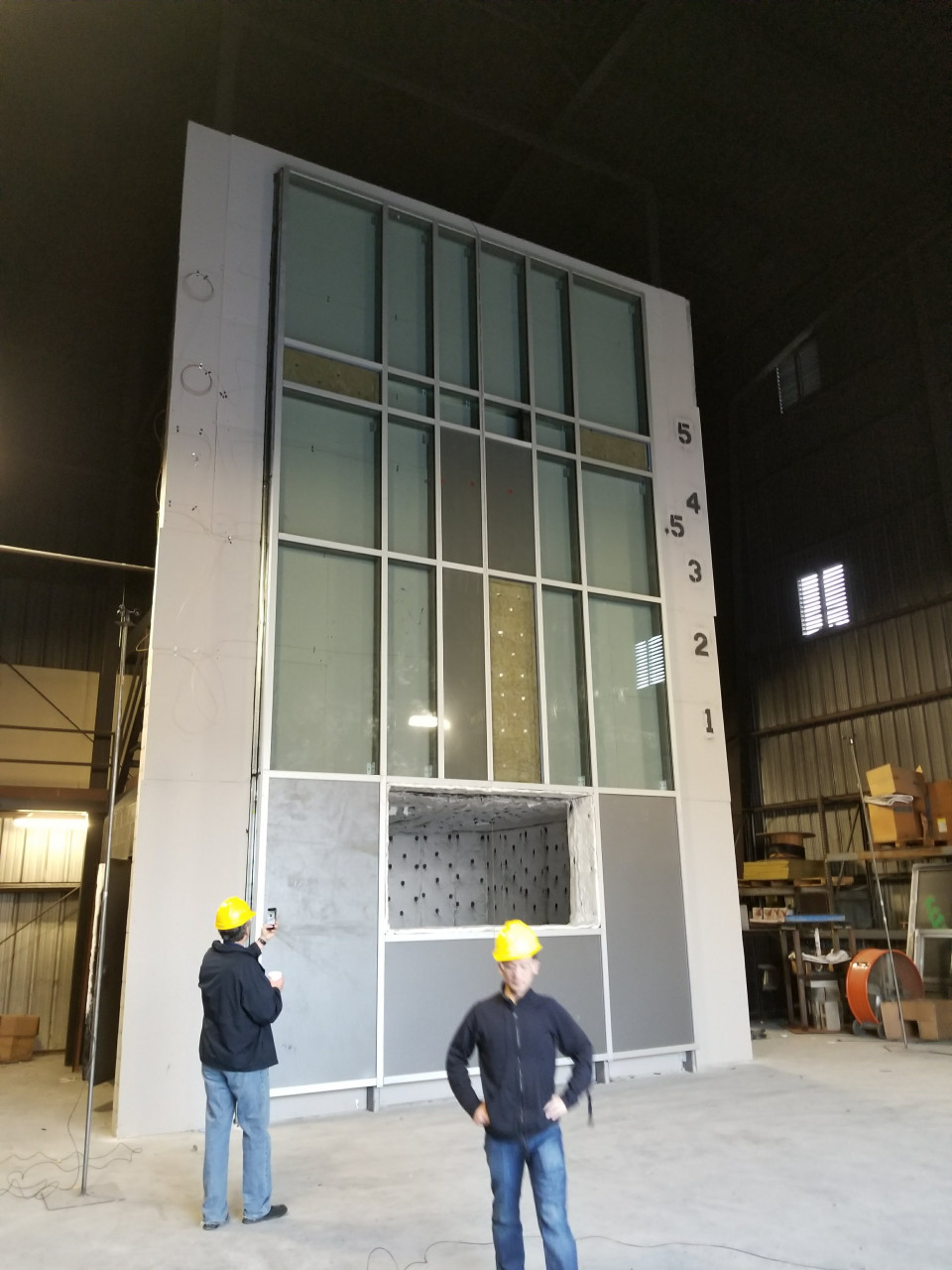 THIS IS A BIG DEAL! One of the inherent limitations of fibreglass envelope products (eg. GlasCurtain) is that the vast majority are limited to buildings permitting combustible envelope construction by Fire Codes.
In essence, using GlasCurtain (and many other exterior fibreglass products) is typically limited to low-rise buildings in relatively low-density areas. This still permits an incredible variety of projects, from LEED Platinum commercial buildings to Colleges in Iqaluit, but it does limit other building types as well. If there's one significant trade-off in the pursuit of higher-performance envelope materials, particularly those leveraging low-conductivity fibreglass, it's definitely this.
UNTIL NOW!
Now there's a way for GlasCurtain to be used on taller buildings in higher density areas. Through a very demanding test called CAN/ULC-S134, building envelope products that are otherwise considered combustible can be used on buildings requiring non-combustible envelope construction. This rigorous test is no small matter, as you can see in the picture of the 3-storey assembly above, but as demonstrated by the Grenfell Tower fire in London last year, there's a very good reason why Canada has such stringent Fire Codes – and that's exactly what makes the CAN/ULC-S134 standard so important.
The CAN/ULC-S134 standard, to quote the Standards Council of Canada, "evaluates the performance of an exterior wall assembly under controlled conditions representing the fire exposure resulting from a post flashover fire in a compartment venting through an opening in the wall." What this means in practice is that exterior flame-spread for a panel or curtain wall system must be no greater than a the threshold required for emergency services personnel to respond. Since conventional aluminum and steel curtain wall systems are considered "non-combustible" (even though they frequently use combustible thermal breaks), GlasCurtain embarked upon a journey to become the first curtain wall system in Canada to comply with the CAN/ULC-S134 standard.
With the help of our fantastic technical team and the financial support of Alberta Innovates, in March of this year we went to Intertek's one-of-a-kind testing facility outside San Antonio, Texas to see what our specially formulated Thermoset Polyester Fibreglass-Reinforced Plastic (TP-FRP) was made of. After years of planning, months of design, and weeks of set-up, and mere minutes of fire, lo and behold, we passed!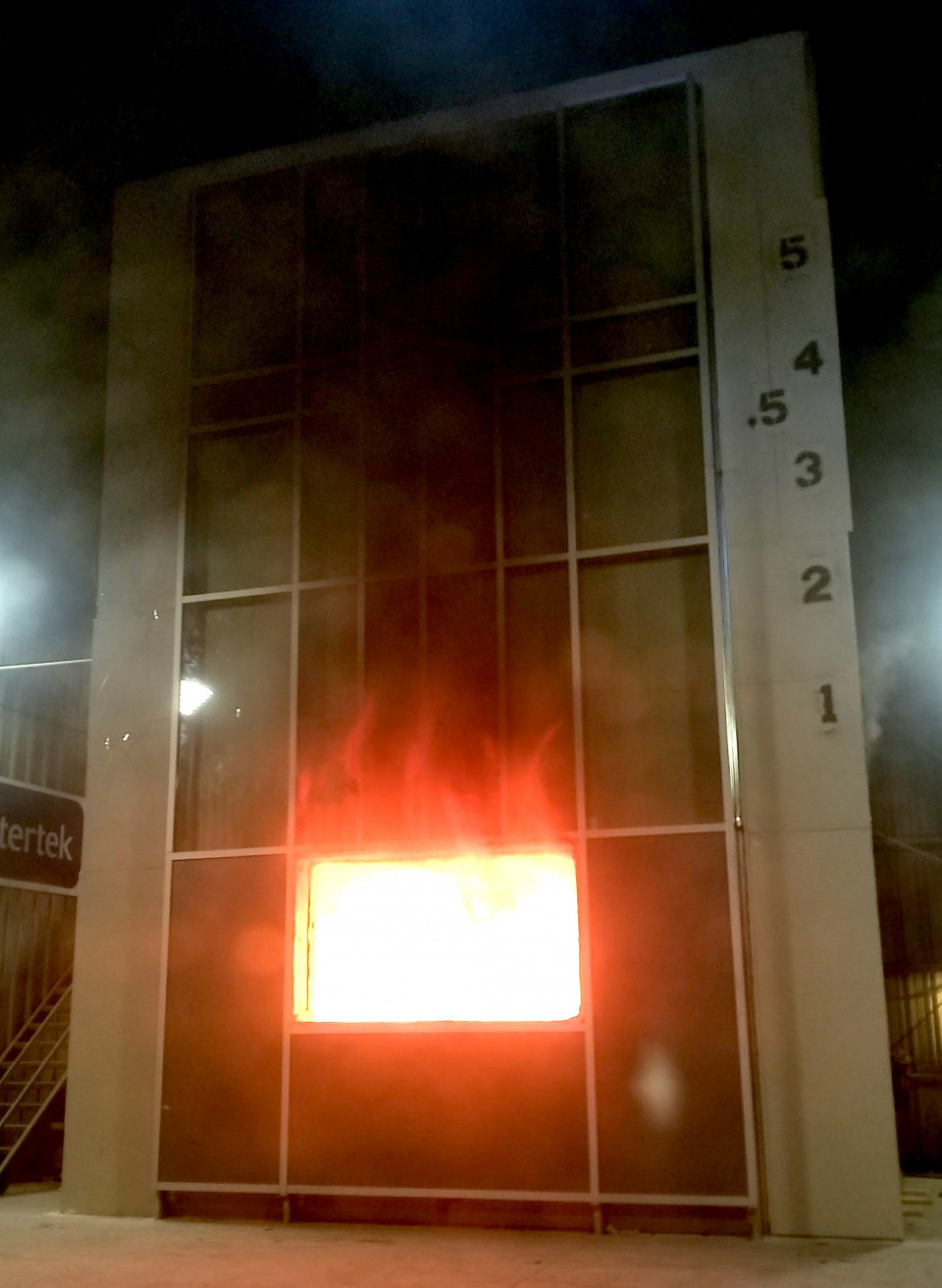 It probably goes without saying, but ever since we launched at Greenbuild 2013, architects and specifiers have been patiently waiting for a  high-performance curtain wall system like GlasCurtain's that could be used even on tighter sites and taller structures. Today we're very happy to announce just such a system: GlasCurtain134 (now Thermaframe7)!
Now, that 15-storey office building you're designing ? That 11-storey mixed-use development ? That 7-storey university residence ? Let's do it! Bring it on! What are you waiting for ??
We've been working towards this day since Day One, and today, at last, we can say with confidence, Next Year In Fibreglass!
This is a BIG DEAL!
Contact us if you're interested in reviewing our Intertek Design Listing.
Photo credits: GlasCurtain inc.