GlasCurtain Joins DWM Developments for Calgary Residences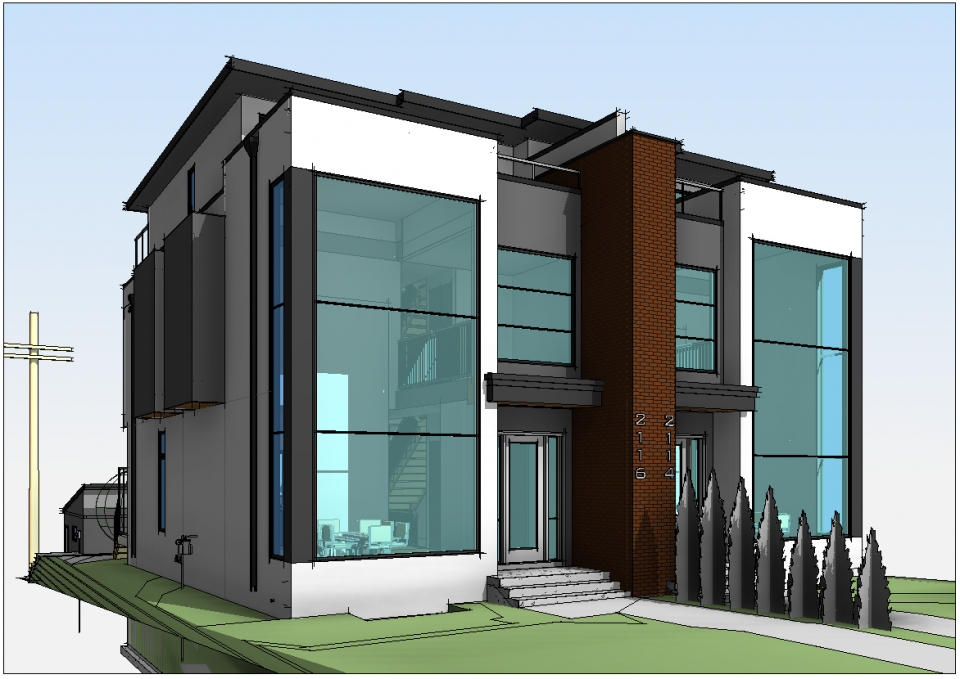 Looking for your very own GlasCurtain residence but frustrated by the fact that the Cambridge Lofts Penthouse isn't for sale?
Well, you're in luck because GlasCurtain's first terra firma residential application is on the way! Currently under construction and with a targeted move-in date of April 2016, these avant garde semi-detached homes are ready and waiting!
As you can see from this rendering, the entire front (south-facing) façade utilises our fibreglass composite curtain wall frames with PPG Greylite II glass nestled in between the mullions – and behind the enlightened entrance lies 2`450 sq. ft. on three floors and another 1`000 sq. ft. in the finished basement. The homes also feature wet bars, 4 bedrooms, 4.5 bathrooms, an elevator, and of course, our unbeatable fibreglass curtain wall in the dining room. Located at 2116 – 29 Avenue SW in Calgary's prestigious Richmond neighbourhood, you can't beat the location either!
Designed by Inertia and developed by Darren McCagherty of DWM Developments Inc., GlasCurtain was selected for this high-end residential project after conventional solutions proved to be inadequate. Conventional aluminum curtain wall framing would have been too uncomfortable for dinner guests, particularly in the winter months, and punched windows would have been simply too small. So thank goodness for GlasCurtain!
For more information about this property, you can contact Darren at d.mccagherty@gmail+com or 403.869.8330.