Big and Small, GlasCurtain Does It All!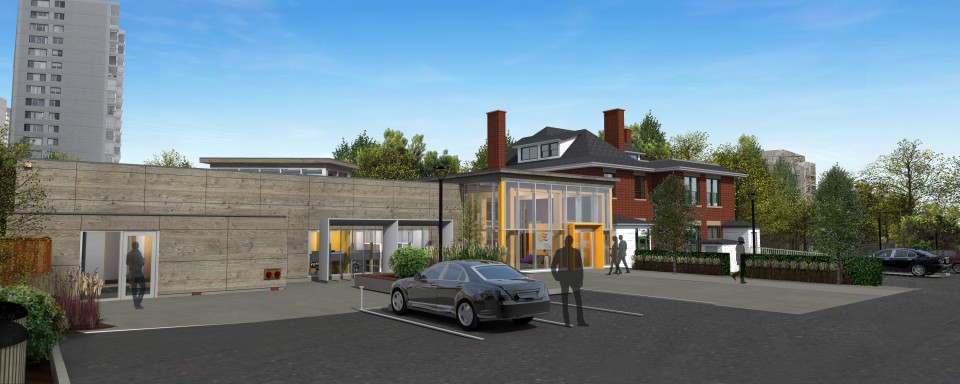 Designed by Edmonton-based Architect David Hardie in 1912, the McDougall House, also known as the "Hilltop House" and seen in red brick above, has been the charming downtown home of the Edmonton Community Foundation (ECF) since 2005. Listed on the Inventory and Register of Historic Resources in Edmonton, this foursquare style house has served the ECF splendidly over the years. The ECF is growing, however,  and the organization is ready to expand its operations and increase its useable space.
As luck would have it, located next door to the Hilltop House is a small concrete and brick building built by Alberta Government Telephone (AGT) in the 1960's and subsequently used by its privatized successor, Telus Communications, to house equipment. Unused since 2013, the Telus building represents a perfect opportunity for the ECF to grow organically and sustainably without demolishing any existing architecture.
Following consultations with Manasc Isaac, a design emerged that would renovate both the Telus building and the Hilltop House and bridge the two spaces with a "Link" building that will serve as the reception area, central meeting room, and social gathering space for the expanding ECF team. The "Link", as you can see in the rendering above, nestles neatly between the two existing buildings while creating a clear and inviting entrance towards Slatter Way to the west.
As you've probably already guessed, GlasCurtain is being used on the "Link" to ensure the highest levels of quality and sustainability are achieved, both of which are key goals of the ECF renovation and expansion. While this isn't GlasCurtain's biggest project to date – it's not quite at the scale of The Mosaic Centre or The Legacy Centre – this demonstrates flexibility and competitiveness at all scales.
So whether your next project is 1,000 sq ft or 100,000 sq ft, we're ready to make your next project the best it can be!
[Photo credit: Manasc Isaac]