🔥 GlasCurtain Passes Flame-Spread Test for US Market!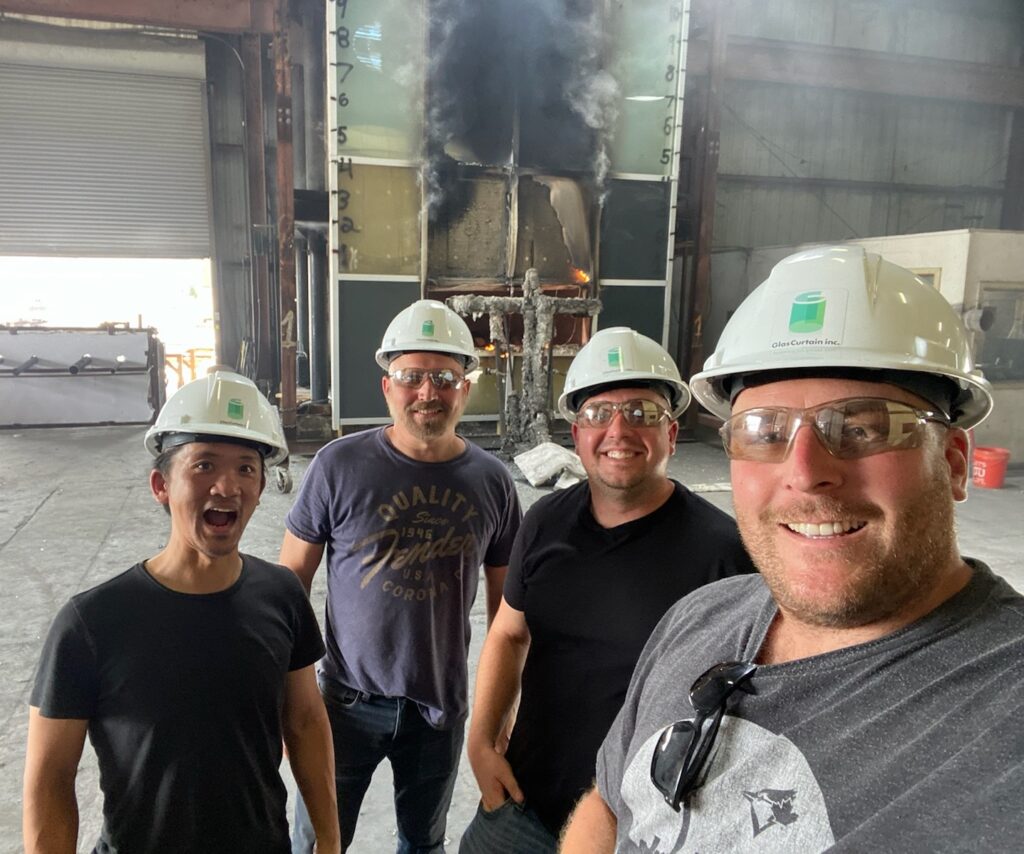 BIG NEWS: GlasCurtain is proud to announce that we've successfully passed flame-spread testing for the US market!
This export-oriented development for Thermaframe systems opens the door to non-combustible construction in the US. We've officially certified our fibreglass-framed curtain walls to meet the highest safety standards for fire safety, namely NFPA-285: "Standard Fire Test Method for Evaluation of Fire Propagation Characteristics of Exterior Wall Assemblies Containing Combustible Components."
Since we commercially launched in 2013, GlasCurtain has committed itself to manufacturing the highest-performance curtain wall systems in the world, systems that are not only sustainable but also safe. Now, with this important and successful NFPA-285 certification, we have reaffirmed these commitments. With this significant step forward, we have again demonstrated our dedication to manufacturing the highest-quality curtain wall systems meeting the most rigorous standards in the world, whether it's this or Passive House component certification.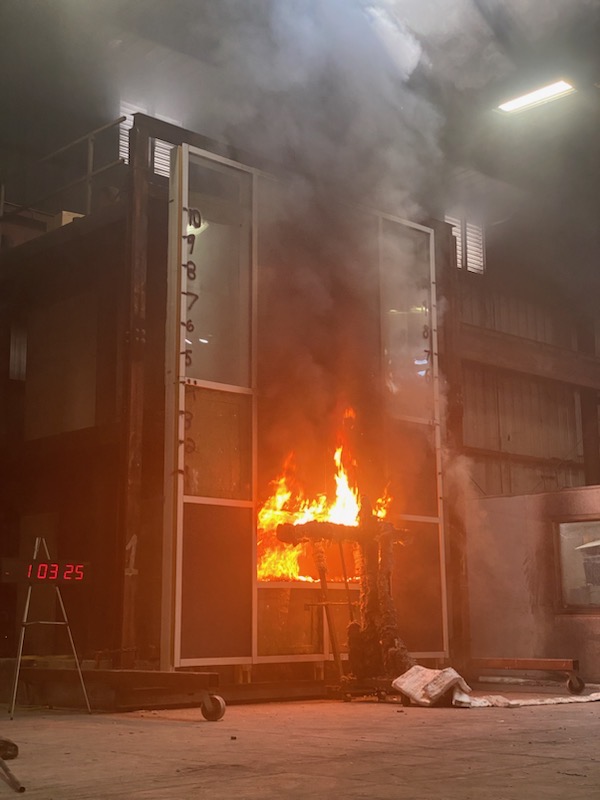 But this isn't our first rodeo for flame-spread testing! In 2018, our team travelled to the same Intertek testing facility outside San Antonio, Texas to test the previous-generation version of our Thermoset Polyester Fibreglass-Reinforced Pultrusion (TP-FRP) framing system to CAN/ULC-S134 for the Canadian market. And we passed that with flying colours!
So in late 2022, when it came time to tackle the US version of the exterior flame-spread test – NFPA-285 – we were old pros at the logistics and coordination, but the design and engineering was still a new challenge. While ASTM E283/E331 and NAFS are harmonized across North America, the flame-spread testing for "combustible" building envelope components is not. This means that CAN/ULC-S134 and NFPA-285 may share similar philosophies, but they ultimately have different methods. Therefore, achieving success with one test does not guarantee success with the other, even though the chances of success are still favorable. Thankfully, we had the funding support of Alberta Innovates and the technical support of Tony Crimi of A.C. Consulting Solutions to guide us.
The results? Thermaframe passed NFPA-285 testing and scored top marks! In doing so, our Thermaframe fibreglass-framed curtain wall systems again demonstrated their flexibility, capability, and safety.
But that's not all! While we were in Texas at Intertek's facility, we also passed CAN/ULC-S134 testing again based on our next-generation Thermaframe profile design. You can see a side-by-side comparison of the two profiles below.
Our next-generation Thermaframe profile (left) and the previous-generation Therm profile (right):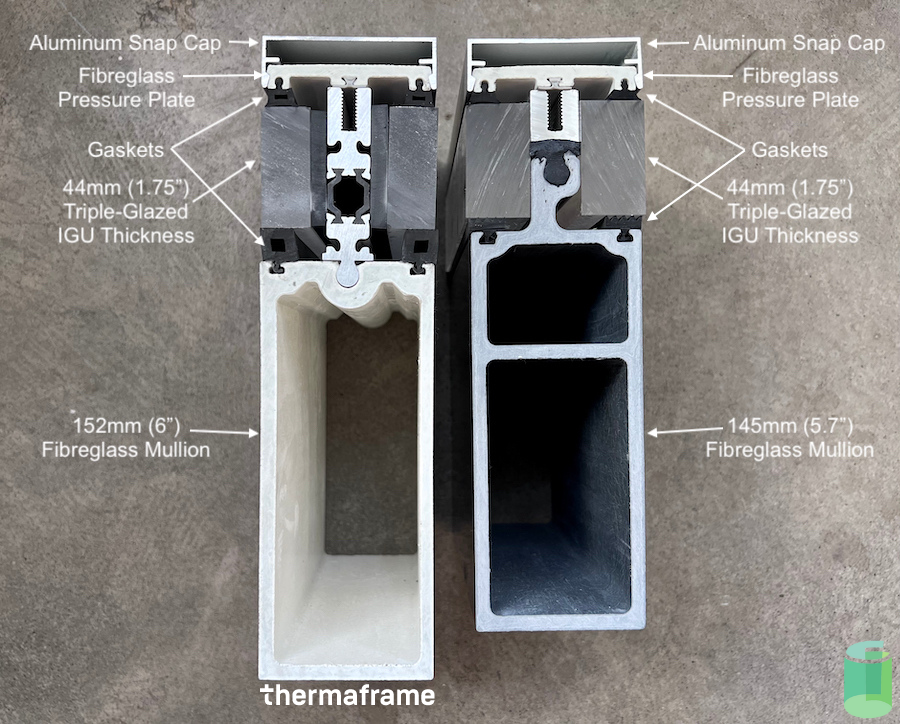 So if you're in the US market looking for the world's highest thermally-performing and lowest-carbon curtain wall, CONTACT US now to learn more about flame-spread ratings, and how Thermaframe systems can help your next Net-Zero or Passive House projects achieve their targets.
Later this year, we'll be at Greenbuild 2023 in Washington DC to celebrate our milestone 10th year of commercialization, and to spread the big news about our successful NFPA-285 certification. Hope to see you there at Booth 1479!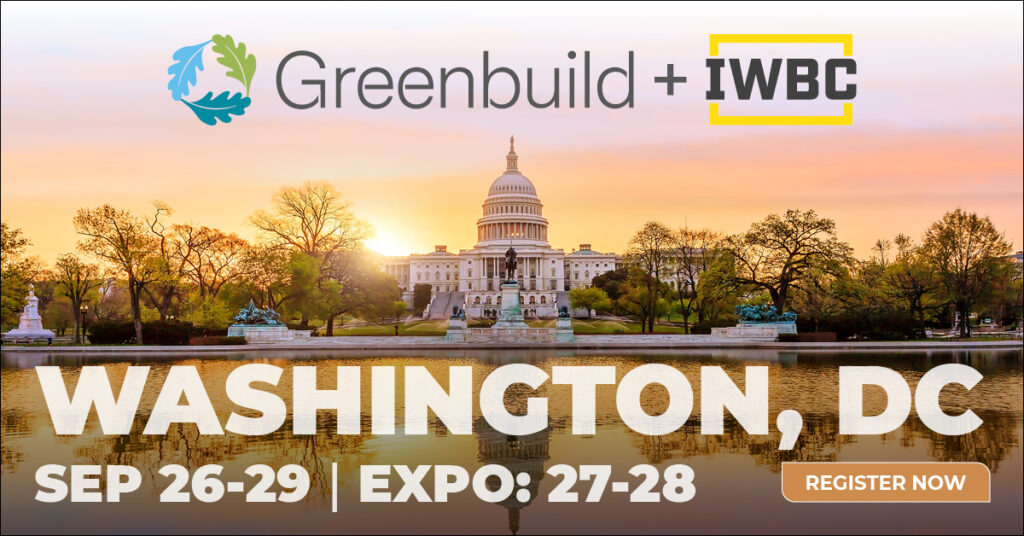 [Photo credits: Jason Maess (1,2), GlasCurtain (3,4), Greenbuild/Informa (5)]