2021 Year-In-Review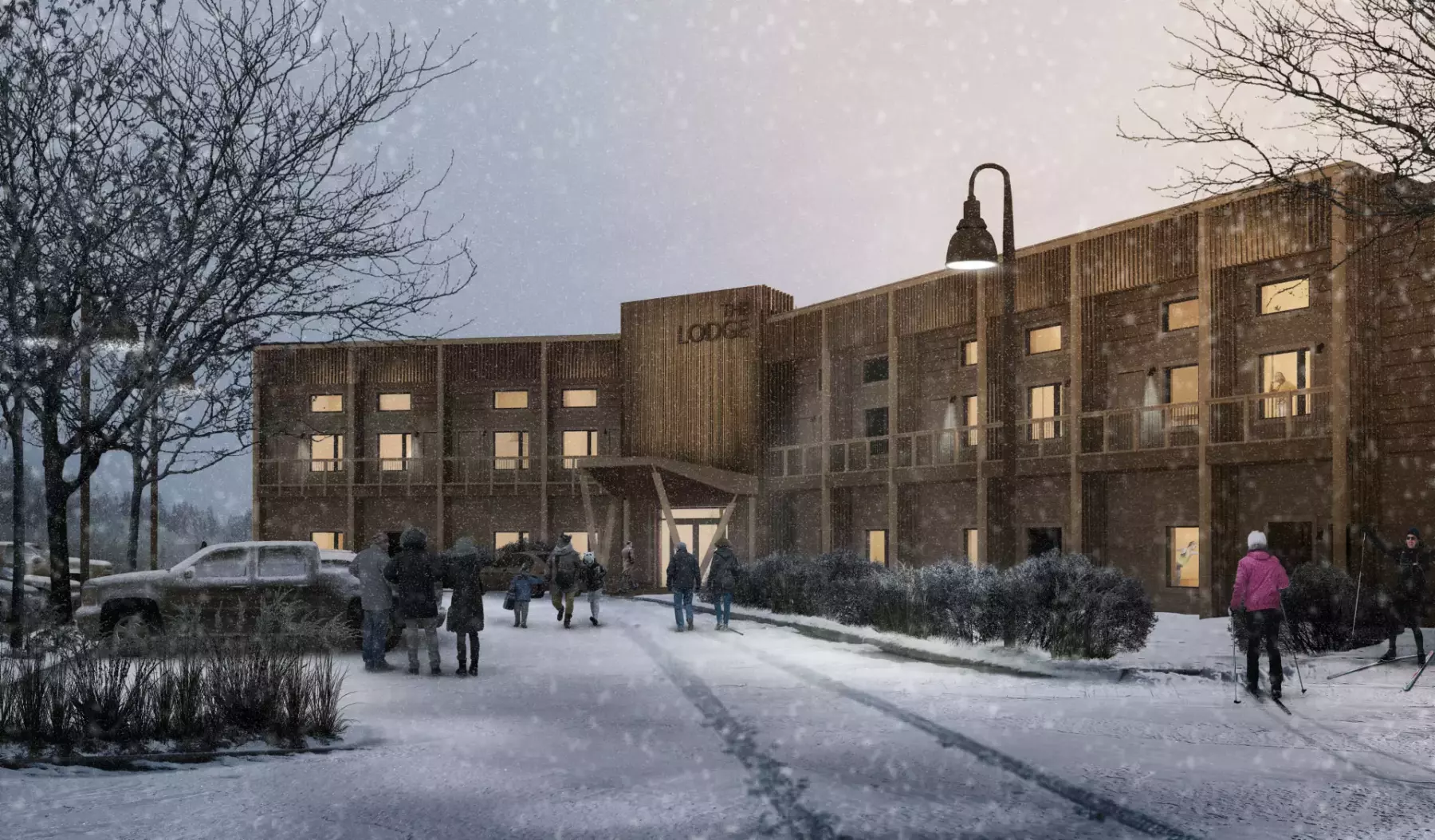 Métis Crossing Boutique Lodge – Rendering courtesy of Reimagine Architects
Happy 11th Birthday, GlasCurtain!
Wow – hard to believe it's been 11 years since we established our company and 8 years since we commercially launched at Greenbuild in Philadelphia! Somehow it seems like we're just getting started, and yet, when we look at where we began, it feels like we've come a very long way. We're excited to share what we've been up to this past year, and where we're heading in 2022!
What We've Been Up To This Year
Projects – What kind of year-in-review would this be if we didn't talk about all the incredible projects we've worked on? Firstly, we're beyond excited to have completed our scope on our first two projects in Ontario! The first was the swimming pool viewing area renovation at University of Toronto Clara Benson Building designed by University Planning, Design & Construction, which leveraged our low-carbon and low-condensation-risk systems for maximum impact and optimal durability.
The second project we completed in Ontario this year was Carleton University Engineering Design Centre designed by Diamond Schmitt Architects and KWC Architects, which creates a well-lit creative space for the next generation of Canadian engineering talent. Both of these project scopes went very well and we look forward to sharing completed project photos next year.
We're also looking forward to many more projects in Ontario in the coming years. We have several in the pipeline, including a surprising number seeking Passive House certification!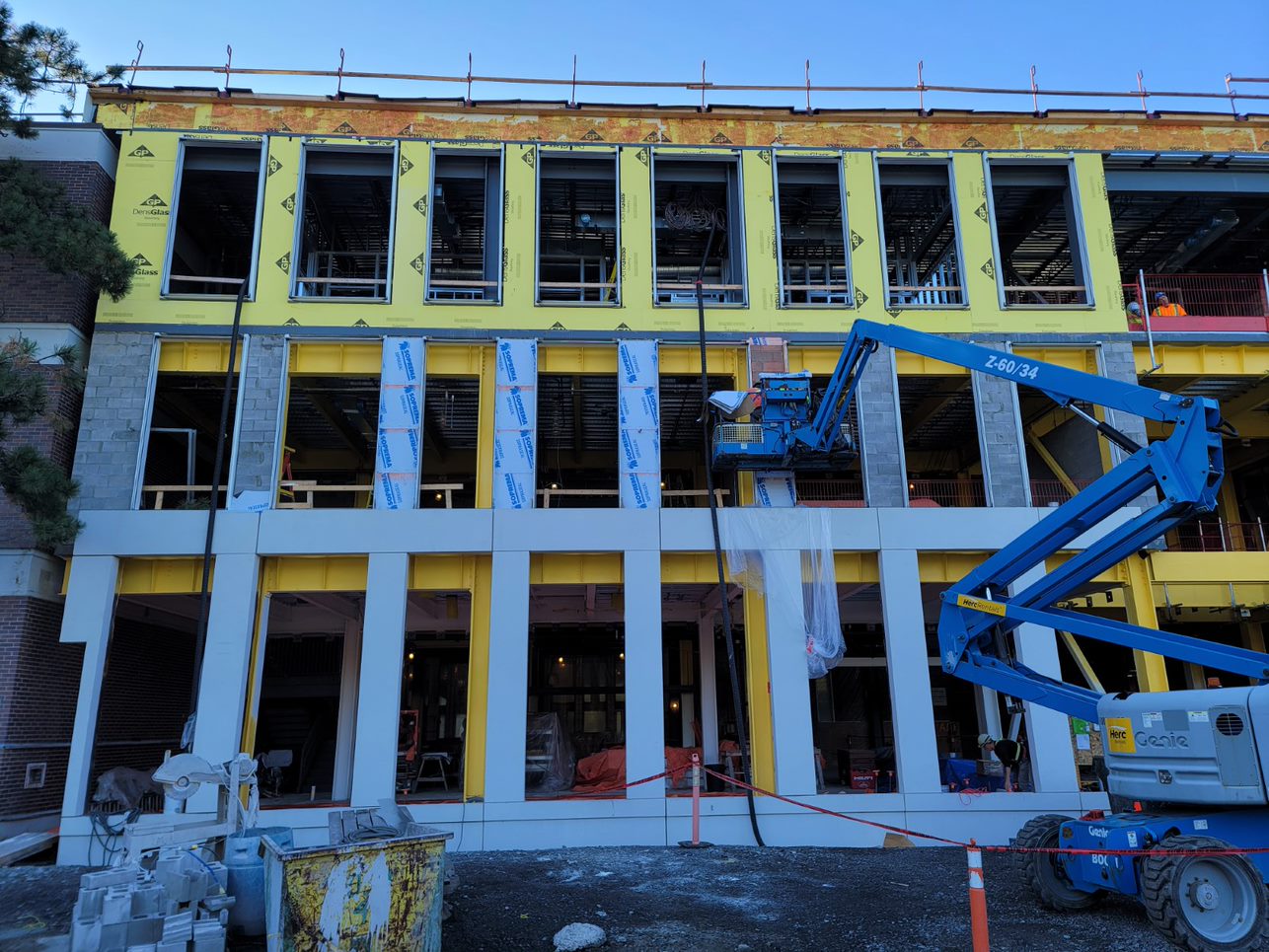 Construction at Carleton University – Photo courtesy of GlasCurtain
In BC, after we completed our curtain wall scope in 2020, the rest of the Saputo Processing Facility and Offices in Port Coquitlam was completed in 2021, so we can now finally share some of the incredible photos of this TKA+D designed project! We're very pleased with the results of our first industrial application. Check out our Project Gallery page for more stunning photos, including of the spacious interior, but here is our favourite shot of the exterior: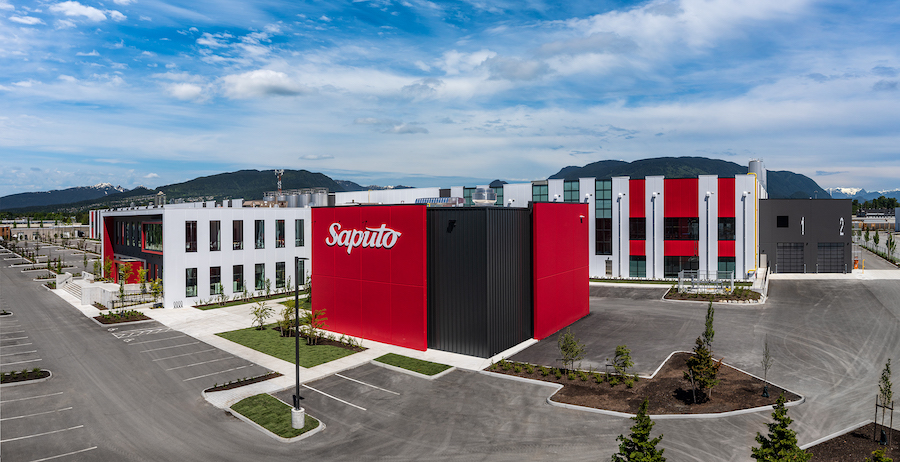 Saputo Facility in Port Coquitlam BC – Photo courtesy of Beedie / Saputo
In Alberta, we completed three projects this year, including Langdon Fire Hall designed by Group2, which was an exciting opportunity since it was our first emergency services project. The curtain wall turned out wonderfully, and we're looking forward to working on more buildings of this type in the future!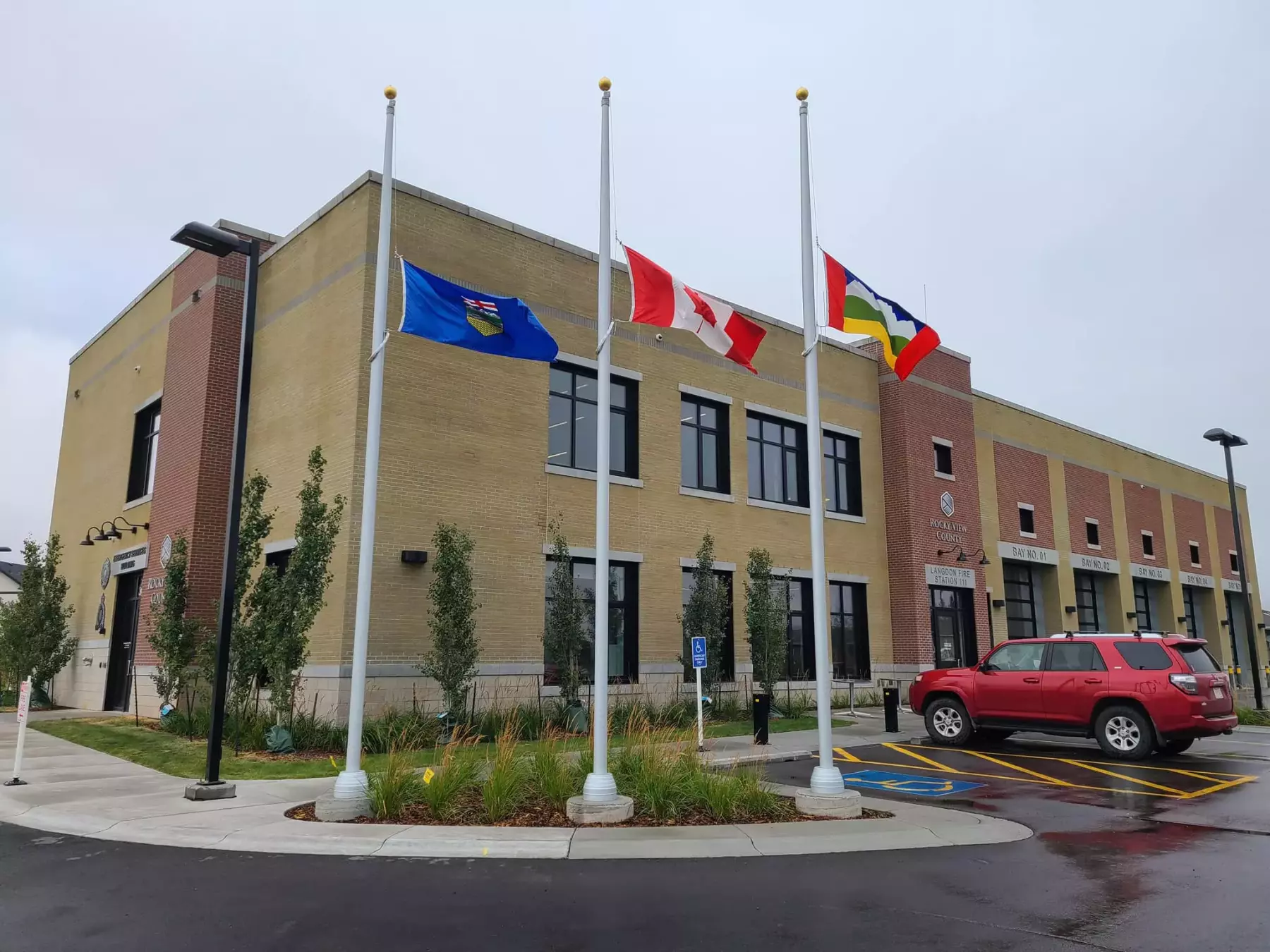 Langdon Fire Hall in Rocky View County AB – Photo courtesy of Langdon Fire Dept
In Northern Alberta, we completed Metis Crossing Boutique Lodge designed by Reimagine Architects. We're so proud of this beautiful new project and can't wait to share more pictures with you all early next year. We aren't the only ones excited by the new Boutique Lodge either; it was recently featured in Condé Nast Traveler as one of the 22 best places to go in 2022!
Our final completed project this year was another incredible First Nations project designed by Reimagine Architects: Kehewin Cree Nation K-12 School. We're thrilled with how the curtain wall turned out, particularly the zig-zagging central clerestory! You can make out the edges of the clerestory in the photo below from the grand opening ceremony: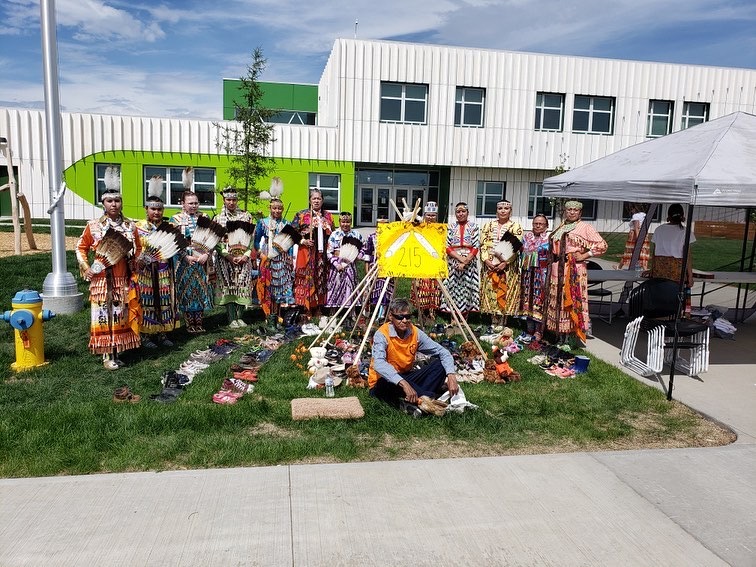 Kehewin Cree Nation K-12 School – Photo courtesy of Reimagine Architects
In addition to completing all of these wonderful projects, we also started construction on a couple of very exciting projects this past year. Firstly, we started construction on the Fort St. John RCMP Detachment designed by KMBR Architects. Our scope will be complete in early 2022 and we're looking forward to sharing completed project photos with you all as soon as possible!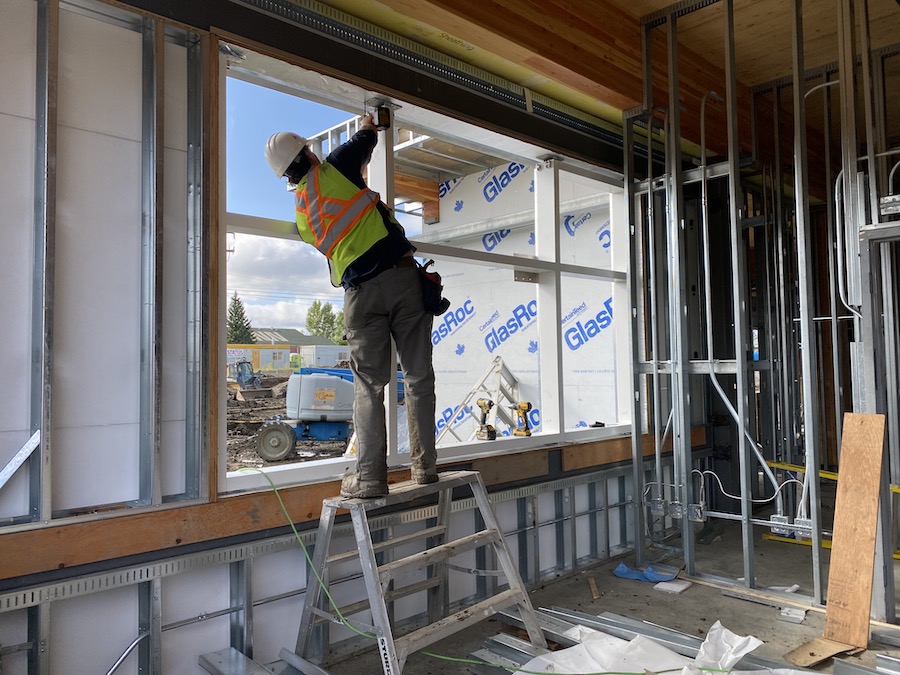 Construction at the RCMP Detachment – Photo courtesy of GlasCurtain
The final project we started this year, our largest project ever in fact, was the Red Deer Justice Centre designed by Group2 and DLR Group for Alberta Infrastructure. We're currently in fabrication for the curtain wall and the site is almost ready for us to begin installation. This is going to be a showcase project for the province, not to mention for GlasCurtain, and we can't wait to share construction photos with you all next year!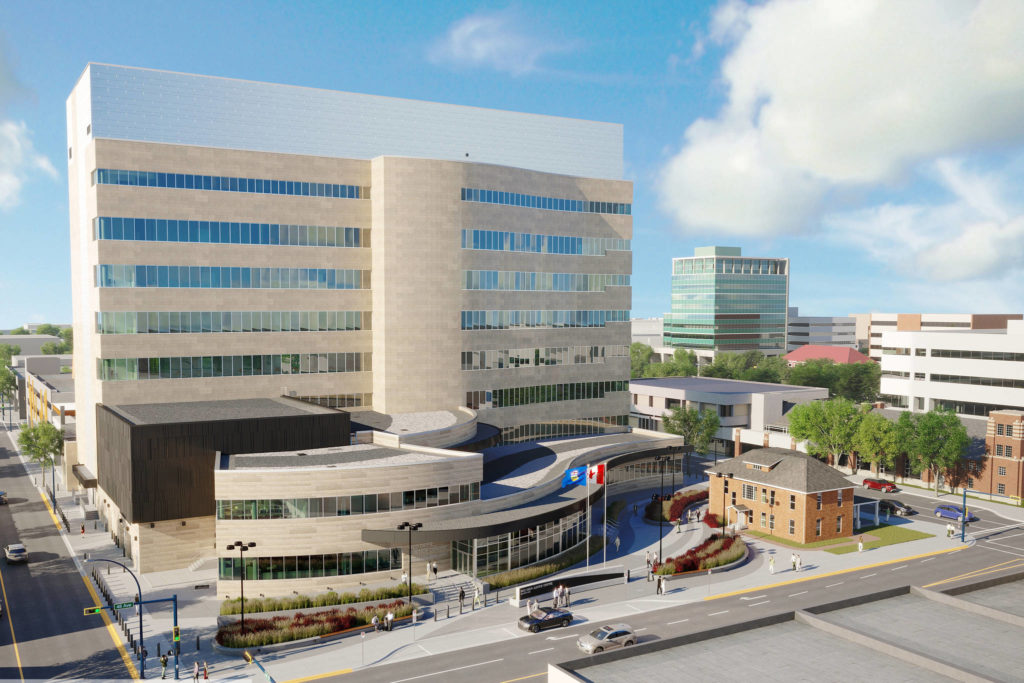 Red Deer Justice Centre – Rendering courtesy of Group2 Architecture / Alberta Infrastructure
Community Engagement – This past year, we had the privilege of sponsoring some very select events, including the Royal Architectural Institute of Canada (RAIC)'s 2021 Awards Show! This event was a celebration of excellence that honoured the best in Canadian architecture and design. You can watch the full video of the Awards Show (Peter shares a few words at 2:00 minute mark)!
We also sponsored the CSC Golf Tournament in September. Not only did we reconnect with so many members of our wonderful community, but they also had the chance to "Beat The Pro" by getting closest-to-the-pin against Peter, a former scratch golfer and alumni of the U of A Golden Bears Golf Team. The event was a ton of fun and we look forward to doing similar events in the future!
Virtual Engagement – Although we weren't able to attend as many in-person events this past year, particularly pre-vaccine, our Virtual Lunch & Learns and YouTube Videos were a big hit! We're always excited to share our knowledge on curtain wall systems, fibreglass, Passive House, and more. Since the convenience of virtual engagement is pretty hard to ignore, if you're interested in booking a Virtual Lunch & Learn for your company, please let us know!
Similar to Virtual Lunch & Learns, this year we also had the opportunity to host a fun (and educational!) webinar as part of the RAIC's Webday Wednesdays series, in which we discussed the Past, Present, and Future of Curtain Wall, which was essentially an extended version of our YouTube video on the same subject!
We're Growing! – You may have noticed that our social media posts are much more frequent than they used to be, which is all thanks to our new Marketing & Market Research Specialist, Veronica Johnson! Veronica recently finished her Master's of Marketing at Schulich School of Business at York University in Toronto, ON, and we're very happy to have her on the team! We also feel very fortunate that our business is able to expand in spite of the challenges facing our industry.
What's Coming Next Year?
As much as we're excited to tell you about what we've been up to this past year, we've even more excited to tell you about what's coming!
Digital Developments – We have a couple of big digital development announcements coming in 2022! These developments will help architects, designers, specifiers, contractors, and installation partners have a more seamless experience learning about our R7+ curtain wall systems, and will help you find the best products for your next project. That's all we can say for now, but we look forward to sharing more soon!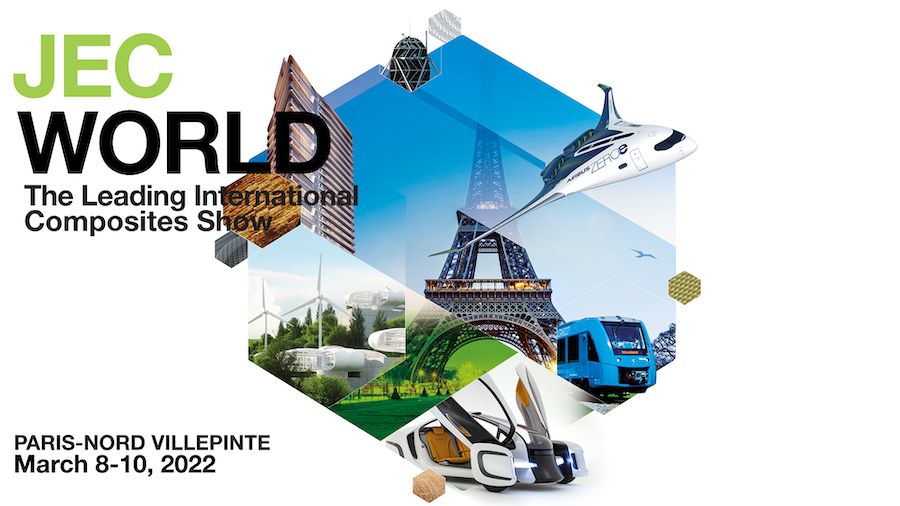 Image courtesy of JEC World
Trade Shows (restrictions pending) – Also coming up in 2022, in-person trade shows, fingers crossed! Like so many of us, we're very much looking forward to be back in-person again, smiling faces and all. We truly believe this is the best way to make human connections, and that's what this industry is all about. In addition to our upcoming exhibition at the Innovation Showcase at JEC World Composite Show in Paris, France this spring, we're also looking to attend trade shows closer to home, so be sure to look out for Peter and Veronica!
Product Testing – We will also be doing product testing in the upcoming year. Specifically, we will be completing Air/Water Penetration, Thermal, and Condensation Testing for our next-generation curtain wall framing system, including our Passive House certified system. We are looking forward to expanding our scope of building types after this testing is completed, not least of all the cold climate healthcare sector where we intend to demonstrate considerable competitive advantages for high-humidity environments. We will also be undertaking CAN/ULC-S134 and NFPA-285 testing for flame spread resistance for our next-generation framing system in 2022.
…And That's a Wrap!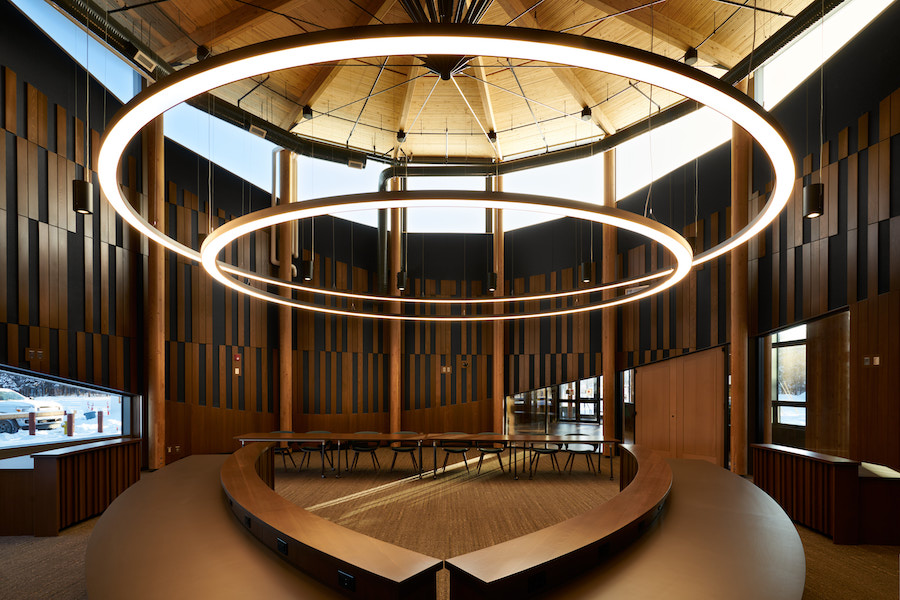 Kwanlin Dun Community Hub – Photo courtesy of Wildstone Construction / Reimagine Architects
While this year was incredibly rewarding and by all accounts our most successful year-to-date for GlasCurtain, it was challenging in many ways for the industry as a whole. Supply chains were strained, lead times lengthened, pricing increased across the board, and labour shortages impacted us all. As ever, we managed to work closely with our partners to deliver on-time and on-budget, achieving our highest revenue year ever, but not without a few grey hairs and late nights for our efforts . Looking forward, we remain optimistic that the economy will find its footing in the year ahead and that our supply chain resilience will improve. This will be a process, to be sure, but a stronger and healthier industry lies on the other side of these worthwhile efforts. We're also confident that the industry is moving towards us, particularly on the regulatory front. There is now an undeniable awareness of the adverse environmental impacts of Embodied Carbon and other embodied pollutants, which is something we've been concerned about for over 10 years, and the code authorities are finally starting to take notice. We're definitely looking forward to increased awareness and regulatory enforcement on sustainability issues in the year ahead.
To all of you with whom we shared ideas, discussed projects, and built long-lasting relationships, thank you so much for a very memorable year. We hope you all have a wonderful holiday season. Wishing you a very Merry Christmas, Happy Holidays, and Happy New Year. We'll see you in 2022!