The Stick-Built Advantage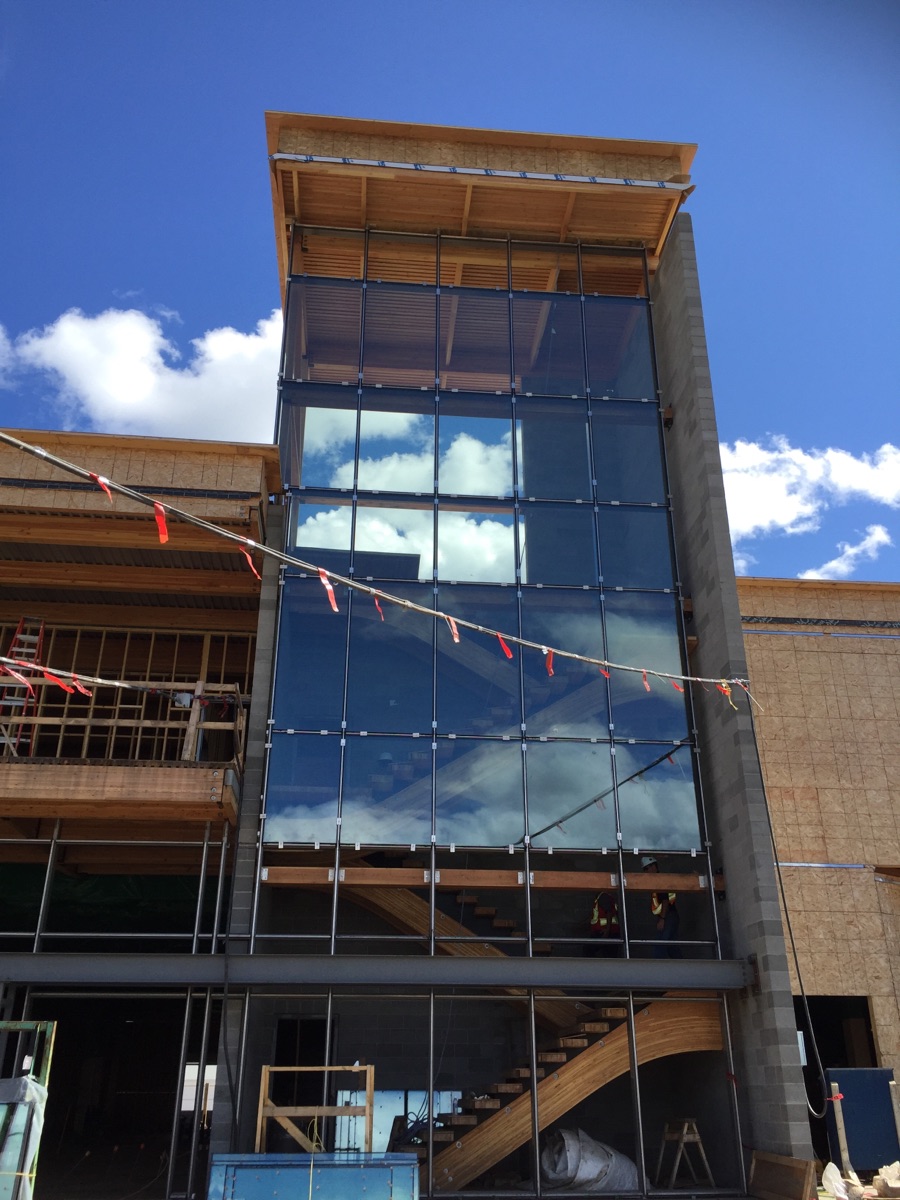 As you may already know, in addition to being exclusively triple-glazed, GlasCurtain is also exclusively Stick-Built.
While our go-to glazing combination makes sense due to thermal bridging issues unique to triple-glazed curtain walls, perhaps you're still wondering why GlasCurtain only does Stick-Built (aka "Field-Assembled") curtain wall systems as opposed to "Shop-Assembled" Unitized systems ?
In total, there are six reasons for this, some of which have to do with the inherent advantages of Stick-Built systems and some of which have to do with Materials Science and the inherent properties of fibreglass composites. Let's break them down!
Inherent Stick-Built Advantages
Complexity
Have you ever seen a perfectly flat slab ? One poured exactly how you drew it on the page ? Neither have we. Yet unitized curtain wall systems, because they're being built off-site at the same time as the rest of the building, have to make certain assumptions about the placement of the structure. This results in less on-site flexibility for unitized systems relative to the more adjustable Stick-Built systems, which make many fewer such assumptions. From an architect's perspective, more complex curtain wall geometry requires more on-site flexibility and adjustability to make sure that all the little details come together, which is why even some buildings over 10 stories tall are built using the Stick-Built method if the curtain wall geometry is more complex and less uniform. 1
Bidding competitiveness
What makes a bidding process competitive isn't just the quality of materials specified but also the number and size of the glazing contractors available to bid. Unitized systems require glaziers with considerably more shop space and manpower, limiting the pool of candidates to bid on your project and raising the costs in the process. Stick-Built curtain wall systems can be installed by a much greater number of qualified glazing contractors, improving the competitiveness of the bidding process.
Shorter lead times
Due to the size of the operation required to pre-build so many panels before shipping them to site, Unitized curtain wall systems take at least 6-12 months to fabricate. Stick-Built curtain wall systems can readily be installed in half that time, making Stick-Built a better fit for fast-tracked projects even though more time is required for on-site installation relative to Unitized systems.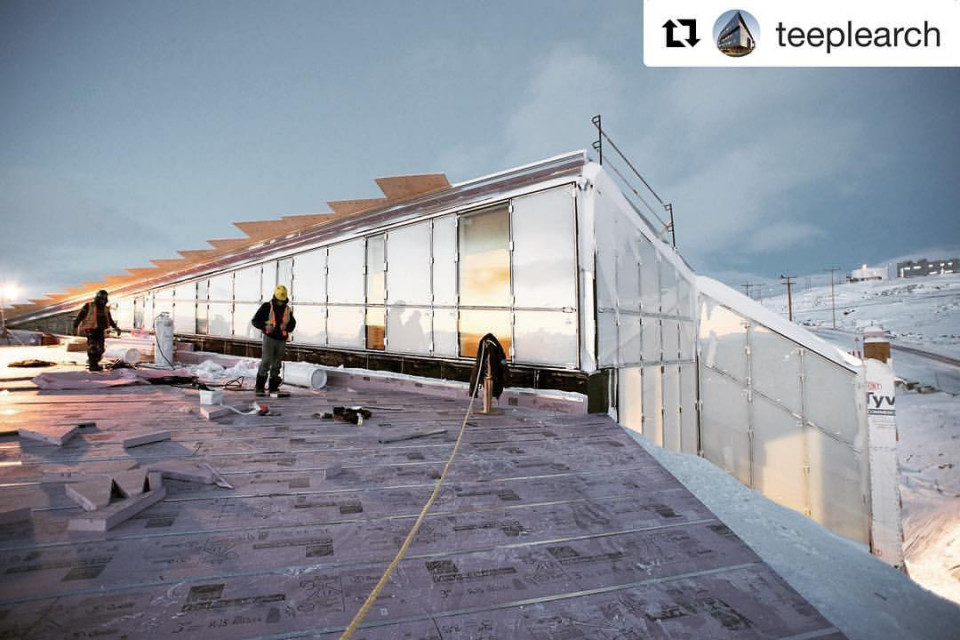 Teeple Architects – Iqaluit Arctic College
Lower shipping and installation costs
Shipping the massive pre-built Unitized panels and ensuring that they aren't damaged in transit is much more expensive than shipping Knock-Down (KD) components and Insulated Glazing Units (IGU) to site for Stick-Built installation, especially when working in remote areas. Also, much less on-site equipment is required for Stick-Built curtain wall to be installed. The lifts are smaller, less expensive, and more readily available.
(Steven Gille has more in the latest Construction Specifier. )
Materials Science of Fibreglass
Die Design
The way that unitized curtain wall frames are assembled is that shop-assembled split-mullion-frames containing both frame and glass are hoisted into place as ready-built units. This process leverages the flexibility of aluminum as a material as well as the fine-grained precision with which aluminum dies can be cut so that the two halves of the installed frame can *click* into place easily on-site. While fibreglass is unparalleled in terms of thermal performance, the dies that we use are not only considerably more expensive to develop but are also less amenable to the sharp latching corners required for the unitized *click* of the split-mullion frames to work effectively. In order for our fibreglass composite to maintain the strength required to withstand impressive wind loads and the world's harshest climates, as well as the dead loads of triple-glazing, we're therefore a bit more limited in the designs that we can use. It's actually pretty incredible that we have as many die designs and profile shapes as we do! And of course, we're still working hard to advance the state of the art!
Combustibility
Until we passed the CAN/ULC-S134 flame spread test earlier this year, becoming the first curtain wall system to accomplish certification under this rigorous standard, our fibreglass-framed curtain wall was limited to buildings permitting combustible envelope construction and therefore couldn't be used on buildings taller than 6 stories in some applications and even fewer in many others. Given that the cost-benefit trade-off between Stick-Built and Unitized systems is typically somewhere around 10 stories, there was previously neither need nor demand for Unitized fibreglass curtain wall that could be used on taller structures simply due to the Fire Code requirements of these taller structures. That being said, even now, the bulk of the curtain wall market are low-rise and mid-rise, which are perfect for Stick-Built fibreglass framing.
So that's it!
GlasCurtain is not only exclusively triple-glazed but also exclusively Stick-Built! Like everything we do at GlasCurtain, there are well thought-out reasons for why we've selected this strategy. Thanks to the incredibly positive feedback we've received from AEC communities across North America in the last five years, it looks like we're definitely on the right track to putting our dent in the universe, but we're not done yet, and we're continuing to innovate in an industry ripe for disruption!
One Stick-Built frame at a time…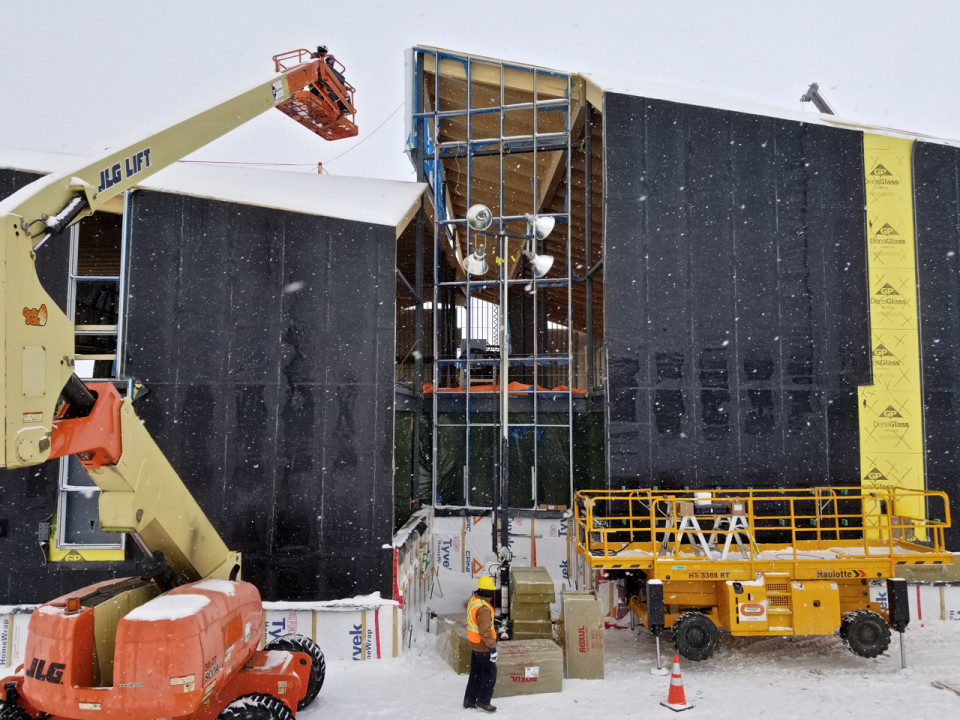 Iqaluit Arctic College
---
1. Fun Curtain Wall History Fact : Mies van der Rohe's 38-storey Seagram Building in Manhattan was entirely Stick-Built and employed as mullions the largest bronze I-Beams ever extruded.
Photo credits
[1] GlasCurtain - Slave Lake Legacy Centre

[2] Teeple Architects - Iqaluit Arctic College

[3] GlasCurtain - Iqaluit Arctic College